At Peartree Spring Primary School, we believe that it is crucial to a child's development that the school, parents and carers' work in partnership with each other.
We consult parents on a wide range of issues and keep them informed by weekly newsletters, information on our school website, parent consultations and open afternoons. Parents also receive information via Schoolcomms/Schoolgateway, Twitter and Facebook.
All our correspondence is emailed to parents, however if you do require a copy of a letter/newsletter, please do not hesitate to contact the school office on 01438 233900.
2023/2024
Newsletters emailed home: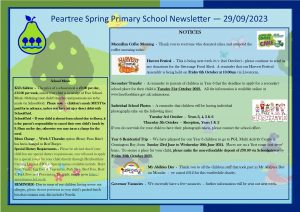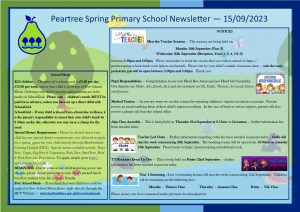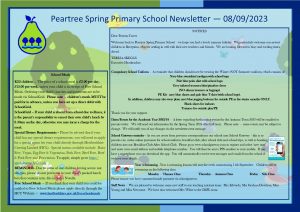 Letters emailed home:
Parent Consultations Autumn Term – Savannah Class 2023
Reminder re dropping off & collecting children.Sept23
FCS leaflet – reception new parent leaflet 23-24
Harvest Festival Letter Sep 23
Macmillan Coffee Morning.Sept23
Teacher Led Clubs – Autumn Term 2023
Wednesday Workshops.pptx.Sept23
Permission Form electronic version.doc.Sept23
Home to School Agreement electronic version.doc.Sept23
Online Safety Agreement (Years 3-6) electronic version.doc.Sept23
Moving On Leaflet 2024 – Final
Wednesday Workshops.pptx.Sept23
Year 4 Nile Swimming Autumn Term Sep 23
Year 4 Amazon Swimming Autumn Term Sep 22
Year 4 Thames Swimming Autumn Term Sep 23
Letter to parents re Open Evening 2023
Letter to Reception Parents regarding LearningBook.doc.sept23
2022/2023
Newsletters emailed home: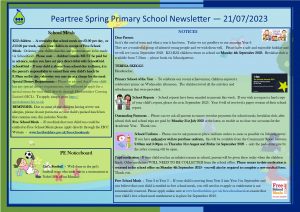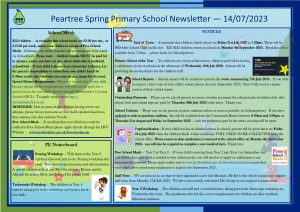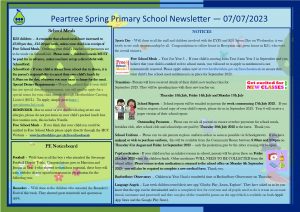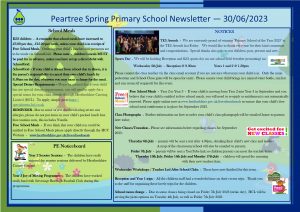 Letters emailed home:
Yr 6 School report information.July23
School report information.July23
Hertfordshire SEND Ofsted Inspection.June23
Strike – closed classes.July23
Year 3 workshop – Portals to the Past
Old Macdonalds Farm TripJune23
Bayfordbury Observatory – Year 5
Rabbit Class Assembly Flyer June 23
Year 6 End of Term events.June2023
Wildchild – Letter to Parents re meeting via Livestorm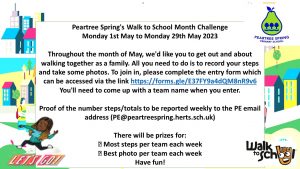 10241541 – Peartree Spring Primary School – 117206 – Final PDF
Year 5 Bikeability Course Summer 2023
Teacher Led Clubs – Summer Term 2023.1
Science and Technology Fair Flyer March 2023
Easter Bonnet Challenge Spring 2023
Year 4 Performance of 'Dragon Days' March 2023
Parent Consultations Spring Term 2023
School inspections – a guide for parents
Reception Fairy Tale Ball on Thursday 9th March 2023
Garden House Hospice – chicks.Feb23
HAPpy – Easter Programme Information Mar 23
Dates.Events ltr – Summer Term 2023
Love Your Heart – Yr 5 – Jan 23
Wednesday Workshops.pptx.Jan23
Teacher Led Clubs – Spring Term 2023
Year 4 Thames Swimming Spring Term 23
Year 4 Nile Swimming Spring Term 23
Year 4 Amazon Swimming Spring Term 23
Rec Christmas Performance.Dec22
Yr 1 Christmas Performance.Dec22
Yr 2 Christmas Performance.Dec22
Yr 3 Christmas Performance.Dec22
Scarlet Fever-Strep A information letter.Dec22
Reception parent leaflet 22-23
Yrs 1, 4 & 6 visit to the Gordon Craig Theatre – Christmas Pantomime 2022 (1)
Yrs 2, 3 & 5 visit to the Gordon Craig Theatre – Christmas Pantomime 2022 (2)
FLU cover letter E-CONSENT.Nov 22
21 Oct 22 Poppy Appeal 2022 Royal British Legion
Parents_Guide_to_MyLearningBook
Letter to Reception Parents regarding LearningBook
Reception – Wednesday Workshops.pptx.Oct22
Letter re Parent Governor vacancy.Sept 22
Wear Something Yellow – Mental Health.Oct22
Parent Consultations Autumn Term 2022
Teacher Led Clubs – Autumn Term 2022
Pyrenees Class assembly.Sept22
Macmillan Coffee Morning Flyer 2022
Teddy Bears Picnic Flyer Autumn 2022
Yr 6 Wildchild residential trip information
Wednesday Workshops.pptx.Sept22
PARENTS NCMP yr 6 letter final_0822
Permission Form electronic version
Reminder re dropping off & collecting children.Sept22
Dates.Events ltr – Autumn Term 2022
Curriculum Webinars Flyer 2022
9th Sep 22 Year 4 Amazon Swimming Autumn Term Sep 22
Year 4 Nile Swimming Autumn Term Sep 22
Year 4 Thames Swimming Autumn Term Sep 22