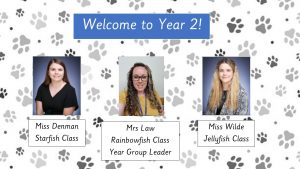 This is such an exciting time for your child at school, marking the end of their time in KS1 as the littlest ones in the school. In Year 2, your child will be encouraged to work more independently and develop the stamina to read and write at length. This is also the year of the Key Stage 1 end-of-year attainment tests known as SATS. All our Year 2 classes have very vibrant learning environments where we promote every opportunity for independent play and exploration, both inside and outdoors.
Phonics continues to be very important in Year 2 and the aim is now for children to read words by sight without needing to sound them out. They will explore many spelling patterns and rules and begin to apply these accurately to their own writing. Children will focus on developing cursive handwriting, with letters formed correctly and consistently. There will be lots of exciting writing, including traditional stories based on myths and fairy tales, poetry and non-fiction based on topics. Understanding basic grammar concepts is important in Year 2, and your child will need to write sentences that are punctuated correctly and make sense – capital letters, full stops, exclamation marks, question marks, nouns, verbs and adjectives are part of everyday life in the Year 2 classroom!
In maths, your child will focus on developing fluency in the 2, 5 and 10 times tables in addition to building confidence adding, subtracting, multiplying and dividing. They will continue to build on their learning from Year 1 on time, measures, 2D and 3D shapes and simple fractions. The national maths curriculum focuses on developing mastery of key skills that children can apply to a wide range of challenges presented in different contexts.
Please visit your class page to find out more information about your child's learning each term. Below you will find our curriculum overview for this term.
Curriculum Map Summer Term 1 2023
Below is the curriculum overview for the Spring 2 2023
Below is the curriculum overview for the Spring 1 2023
Below is the curriculum overview for the Autumn 2 2022
Below is the curriculum overview for the Autumn 1 2022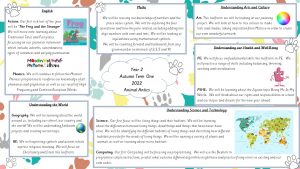 Below is the curriculum overview for the Summer 2 2022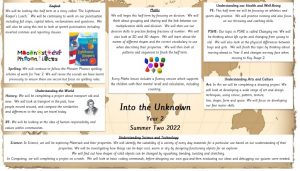 Below is the curriculum overview for the Summer 1 2022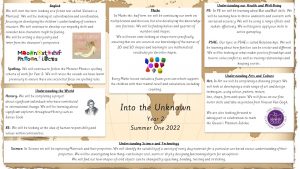 Below is the curriculum overview for the Spring 2 2022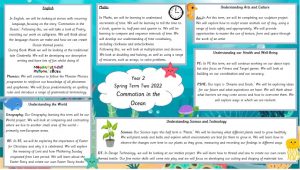 Below is the curriculum overview for the Spring 1 2022.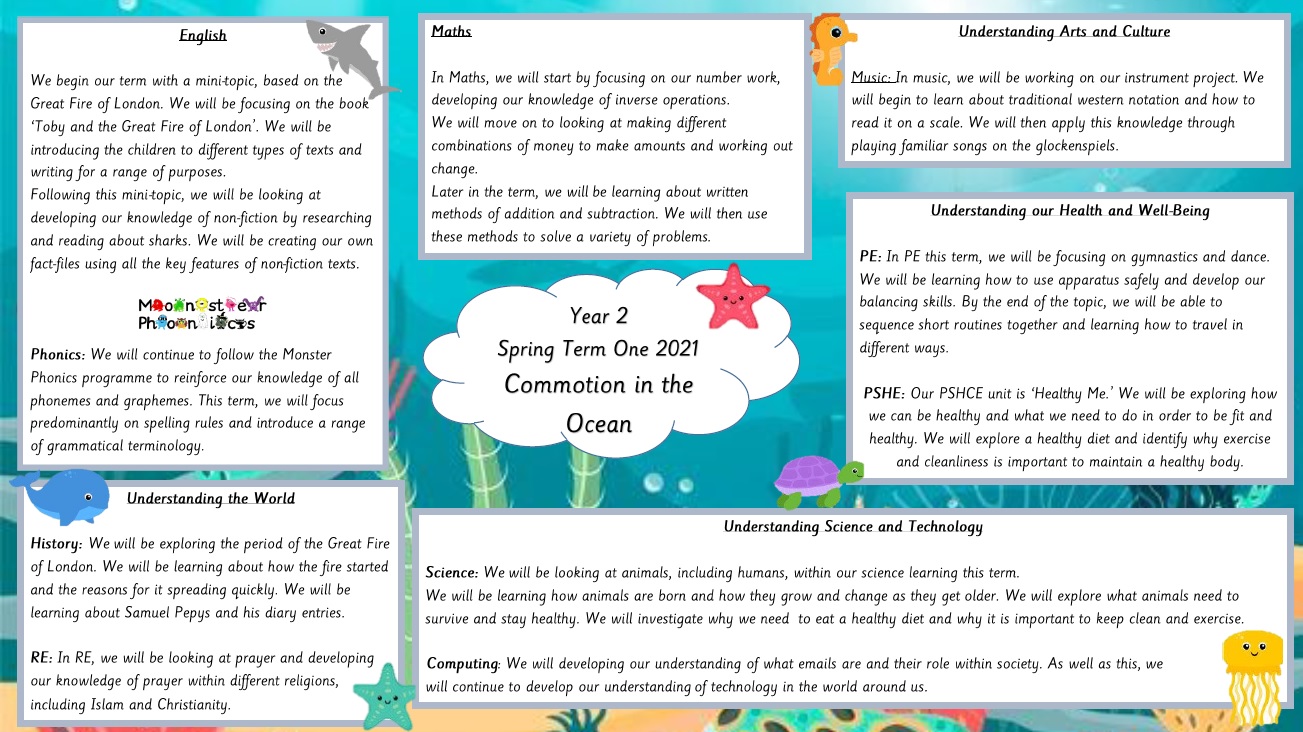 Autumn Term 2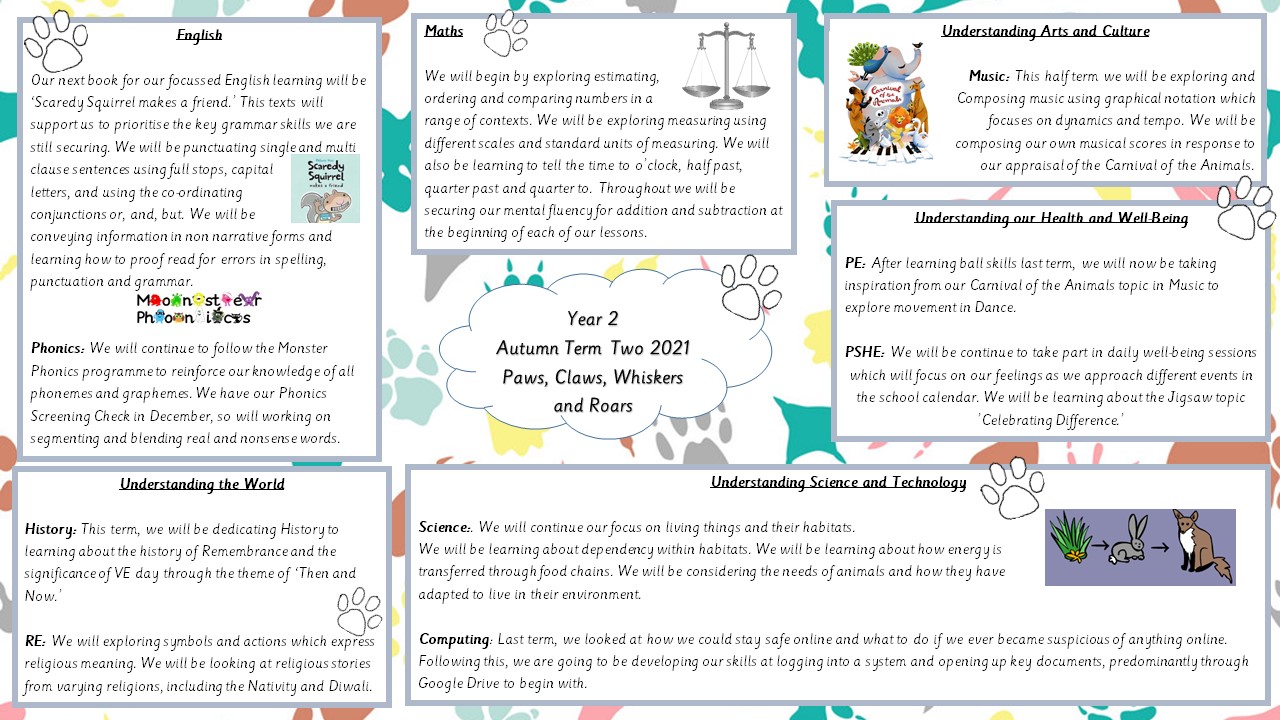 Autumn Term 1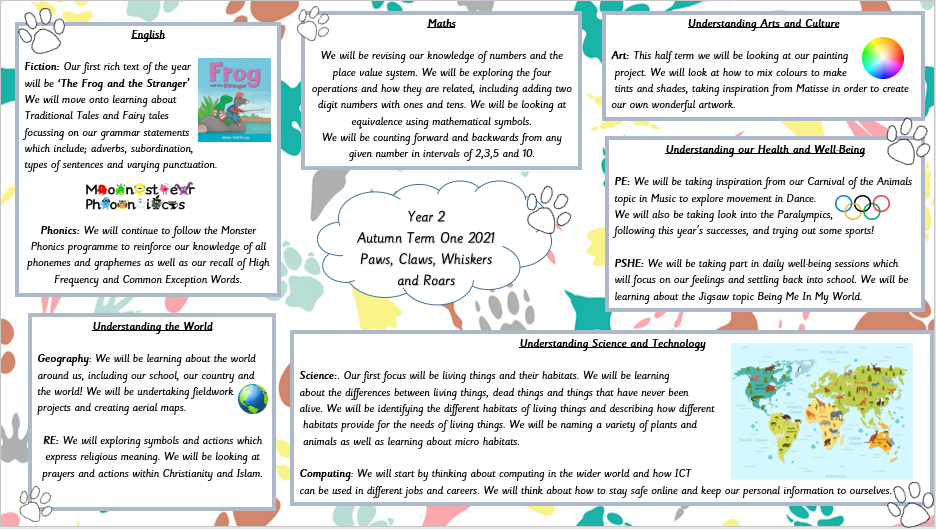 You can also find more information about Year 2 by watching our webinar below.
How can I help my child in Year 2?
The best thing you can do is to read with your child every day. Ideally, listen to your child read aloud and help them sound out words that are tricky for them. This helps to build stamina and resilience and will help them become independent readers. Also continue to read stories to your child as well, so that they can hear what fluent reading sounds like and develop a love for books. Reading can be frustrating at this age and it is so important that your child feels positive about books, so the more time you spend snuggled up together sharing a story, the better! Research shows that switching on the subtitles on the TV also helps to improve reading fluency.
Home Learning
In line with the rest of the school, we encourage your child to spend time reading at home each evening and this can be recorded in their Reading Record Book.
Each Friday, we set homework on Education City. There will be a range of English (including spelling, reading and grammar,) Maths and Topic based activities which your child can pick from. Where possible this will link to the learning the children have done during the week.
Year 2 children also have access to Bug Club and TT Rockstars. If you have any questions about login information please ask your class teacher using the class email address.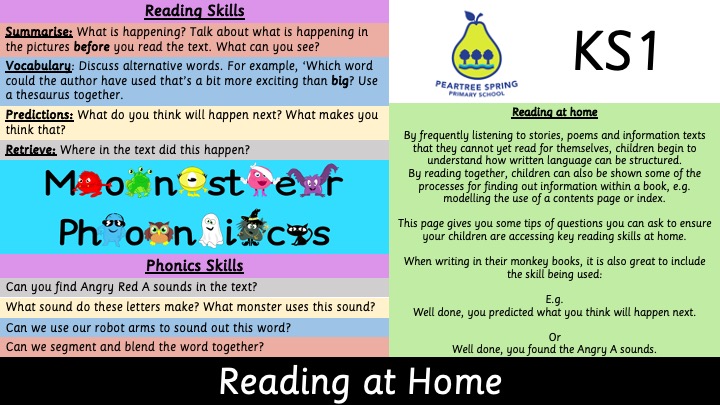 Water bottles
We ask that your child brings a named water bottle to school each day. These are kept by our sink so that your child has free access to them throughout the day.
PE kits
We ask that your child has their PE kit in school each day of the week as our timetable is subject to change due to the weather and the availability of space. In line with our school uniform policy, they require a pair of plain blue jogging bottoms for the winter months as we may have our lesson outside.
You can also help your child by finding as many opportunities at home to practise counting forwards AND backwards in 1s, 2s, 5s and 10s. Helping your child master the concept of grouping would also be very helpful – for example, 2 lots of 10 equals 20 and 20 divided/shared by 2 is 10. You can also practise telling the time at home by looking at a clock together, especially the 5 minute intervals.